Insights into Virtual Infrastructure vs. On-Premise Solution (Part 6)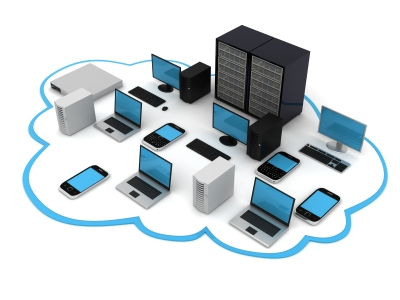 Here in Part 6 in our series on Cloud Computing Benefits, we'll explore powerful alternatives to dedicated servers and on-premise machines. Let's take a look at how employing hosted servers in a virtual infrastructure (also known as IaaS – Infrastructure as a Service) may have advantages for your business over using the traditional on-premise model.
Simply defined, IaaS is a model in which the servers, network equipment and components, including hardware and storage, are all outsourced. The service provider manages or owns the equipment and is responsible for its maintenance and upkeep. The client typically pays for only what they use and the business services can be quickly and reliably provisioned and managed as the client's needs change.
Virtual infrastructure is commonly seen as the next generation of the server environment. It is designed to address the inefficiencies of the in-house server model and the limitations of dedicated servers. Doing away with the restrictions and hassles associated with having to own, manage and maintain server hardware, virtual servers, instead, offer ready-to-use, fully supported server capacity on a simple monthly subscription basis.
Another great feature is that the virtual servers don't have to act as islands – they can be fully integrated with your existing networks to behave as a seamless extension of your infrastructure.
Here are just 10 of the many key Features and Benefits of a robust virtual infrastructure:
Set up in flash! Usually in less than 5 minutes
High Availability – Never just one server, but part of many
24/7 support, leading SLAs
Control panel access to management
Dedicated high-speed network
VMware or Parallels platforms
99.99% Uptime guarantee
Total Cloud Scalability
Expand from 1 to 32 CPU cores
Redundant & Secure backups/snapshots
The virtual infrastructure servers look and feel exactly like traditional dedicated servers but, because they're based in the "cloud", you have instant access to an almost limitless pool of computing resources. As such, changes to your server can be made on the fly, without any of the headaches or cost penalties associated with moving from one server to another.
While you're guaranteed a minimum level of resources, you've always got access to more should you need them – giving you robust flexibility and cost control. Virtual servers provide a cost-efficient alternative to making large investments in depreciating hardware at a time when IT budgets are increasingly being squeezed.