Remote Video Guarding: Watching Your Facility from Afar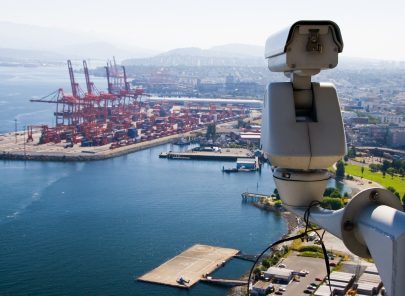 Imagine the ability to detect a burglary in progress on your property…and to establish control of the situation by having your 24×365 Central Station professionals actually speaking and listening to the trespasser through your Remote Video Guarding solution. Think of the ability to dispatch resources to prevent theft, or the potential to describe a burglar's appearance and activity in detail to law enforcement officials.
Above all, imagine the power to protect inventory at sites miles away from you. New remote video guarding services provide the equipment and technology to do just that. Using real-time analytics, revolutionary Dome Cameras can distinguish activity generated by people, vehicles and boats from other distractions such as animal movement. The cameras can even detect and track activity within an office environment when furniture partially or significantly blocks views of the intruding individuals.
Coordinate Security Efforts
When a verified event occurs, central station professionals alert the designated individuals on your call-list in addition to the appropriate authorities. Security officers, managers, and other key staff members can receive video clips via e-mail. Traveling partners or patrolling security personnel may view the clips on their smart phones or any other portable device that supports video e-mail attachments. Furthermore, adaptive analytics can discern real threats from minor disturbances, reducing the number of false alarms generated from your facility and potentially eliminating unnecessary contact with local law enforcement. The new focus on prevention may allow your business to deploy security resources to specific targeted areas, rather than rely on a general security presence at your facility.
Avoid Expensive Upgrades
Because the cameras do not have the need to stream images to a central network video recorder, but instead can store months' worth of video on-board, the remote guarding technology requires much less bandwidth than older systems and can be installed on existing networks. Furthermore, the VideoIQ® camera sensors function in a wide range of indoor and outdoor environments, eliminating the need to install new lighting throughout your site just to begin operation.
Protection Available For All
Remote Video Guarding is no longer only an option for large-scale businesses with extensive inventory and sizable security budgets. The potential for real-time monitoring and response has elevated the value of business security, and technological advances have made theft prevention much more feasible for all companies.
Sign up for our free site assessment below for more information about remote video guarding options for your business.